Though the workplace culture in Australia is fun and full of life, happy retirement calls for a celebration. Facing this new chapter may be scary, so make sure to send your retirement wishes through retirement card messages.
This article will provide everything you need about writing good retirement messages for your colleagues, friends and family!
What do you write in a retirement card?
As they walk through a new phase in their life, you can help them ease the transition by letting them know you're hopeful of their new beginnings.
Here are some ideas you could start in crafting a unique card to send your best retirement wishes!
General congratulatory greetings
You can never go wrong with a simple retirement congratulations. Here are some of the best examples you could use:
Sending my warmest congratulations on your retirement! Enjoy!
Congratulations on your retirement! Wishing you a long and fulfilling off-work life.
For all the years you've worked hard, this retirement is well-deserved! Happy retirement!
So glad to see your dreams come true! Enjoy many fruitful years ahead.
Today's the day the fun begins! May you enjoy a happy and healthy retirement.
Appreciating a legendary service
Recognise their memorable service with affirmation for their hard work and dedication. You can even share your best work or life moments with them that will surely bring back good times!
Examples:
Retirement may take you far, but your legacy will remain. Enjoy your retirement!
As you face your retirement, we'll surely miss the optimism you bring to the office!
Just want to let you know how irreplaceable you are. Congratulations on your retirement. Wish to still see you in your free time!
After many years of remarkable service, happy to see you enjoy a well-deserved retirement.
Celebrating today for the most hard-working person I know. To new beginnings!
Laughing it off with retirement humour
If you want to add a memorable twist to your retirement card, try adding some funny retirement wishes for your closest friends and buddies. This is the best option for your quirky and witty retirees!
Examples:
Enjoy your new adventures (but don't drink and drive). Half your luck, mate!
Goodbye weary Mondays, hello insurance bills! Happy to see you take one for the team LOL
Never thought you'd beat me to the retirement line but so happy you've got what you've always wanted. Congratulations on your retirement!
I know you will miss me every day. Always ready for a middy or schooner. Let me know!
Retirement means you won't be late for work anymore. It's the best phase of your life!
Heart-warming wishes
Retirement brings up a great opportunity for some nostalgic trip down the memory lane. You might want to write a generally sincere and heartfelt wish for your loved one to do this.
Examples:
Going to miss our early morning grind at the office, but I sincerely wish you a happy retirement. We'll miss you! Hope you enjoy your new life ahead.
Hate to see you go, but you deserve the best things! Wishing you good health and more time with your family. Congratulations on your retirement!
Sincerely wishing you the best as you face the next chapter of your life. You've been like family to me and all of us at the office, so we hope to see you soon, okay?
With much love and happiness, congratulations on this milestone! Enjoy every moment and best wishes to your wonderful retirement journey!
If you're writing for a family member, try mentioning that you're happy you finally get more time to spend with them. This will make your retirement congratulations more blissful!
Examples:
Dear mum, congratulations on this great achievement! Your hard work has paid off, and now you can do the things you've always wanted to do, like spending more time with our family.
Hope to have more great times with you, Dad! Congratulations on surviving the work-life!
Glad to spend more time with you and miss you a bit less! I have so many fun things planned for us! Much love!
You have accomplished so much in your career life. Now it's time to take some me time and relax for the rest of your life. Best wishes!
3 Dos and dont's of composing retirement messages
Whether it's for your family, friends, or colleagues, here's a fool-proof list in sending your happy retirement wishes!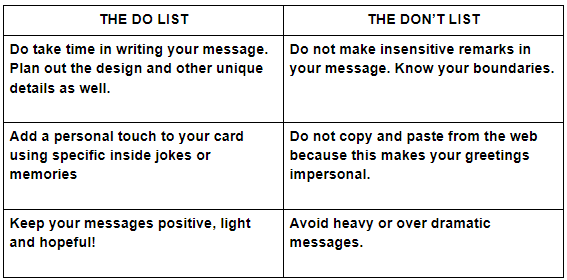 Conclusion
Retirement is always a memorable time for many. Use these card ideas to make your loved one happy and hopeful in their next journey as a retiree in Australia.
If you want more articles and ideas on celebrating your own or your loved one's retirement, check out Aged Care Weekly! We provide you with the latest news, useful guides and helpful tips in planning your off-work life.